I was going to write a review about the Super Bowl but I would only regurgitate the same old topics: Beyonce, Destiny's Child, over-serious truck commercials, Bane and the blackout, spazzy brothers, awful no-calls by the refs, more Beyonce, and an overdramatic underperformance by Ray Lewis. So now that it's February and I have had time to think, I wrote about my top 10 albums from last year, plus a couple that almost made it.
10.
Good Old War – Come Back as Rain
There's no way you should live your life without seeing these guys live. I don't think I would love this band as much if I hadn't had the opportunity to see them live. Their sound is fresh, the harmonies are sing-along-worthy, and all they make you want to do is "boogie."
Favorite Tunes: Better Weather, Over and Over, Not Quite Happiness
9. Converge – All We Love We Leave Behind
There are a couple of albums on this list where I'll mention this phrase, "I can't wrap my head around this." All We Love… is constantly leaving me scratching my head. I don't get how things can be so fast, so oddly paced, and so angry but seem so right.
Favorite Songs: Trespasses (I could run through concrete walls listening to this), Aimless Arrow, All We Love We Leave Behind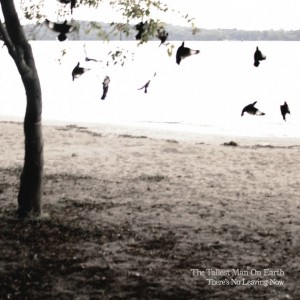 8. The Tallest Man on Earth – There's No Leaving Now
Not one person in this world can evoke as much emotion or power into a song with just his guitar and voice like Kristian Matsson. Of course, he has songs with other instruments but most of the time they aren't even needed.
Favorite Songs: Leading Me Now, 1904
7. Birds in Row – You, Me & Violence
I don't know what it is that this senior year of college has done to me but I can't get enough of this pissed off, angry music. Freshman year was anxiety ridden and also the last time I remember listening to so much punk/metal/ANGER. As I got into the routine of things, I calmed down and my music reflected my comfort: acoustic, folk, light-hearted music, indie without the noise. I can't grasp the future while everyone piles on the same old question: What are your plans? STOP ASKING THAT GAWWWWD! It clouds my mind. Birds in Row is the perfect type of loud music that clears the storm in my head. It overpowers everything going on. I can feel the power of every scream, every heavy note, and every symbol. They lift the weight of unknowing off my shoulders and it leaves me in a comfort again. All you have to do is yell along and enjoy. The lyrics are often politically incorrect and display purest form of anger, so if you're happy and love kittens and cute and cuddly things, best to stay away from this band.
Favorite Songs: They're all equally ridiculous
6. Caspian – Waking Season
Caspian builds delicate song patterns into soaring grandeur. I used to give post-rock albums to people who wanted music to listen to while studying. I won't do it for this album. My mind gets wrapped up around itself and I end up envisioning myself skipping through daisy fields, holding hands with Emma Watson, and then pursuing a picnic under a humongous oak tree in a valley surrounded by mountains, streams of water that lead into a creek and soft-fluffy animals that roam around and interact with Emma and I. Then before I know it: babies. If anyone had this type of reaction to an album, there's no way they would be able to do homework. Plus if they started dreaming about Emma like that, I WOULD DECK THEM IN THE FACE. SHE'S MINE.
Favorite Songs: Gone in Bloom and Bough (ten minutes of bliss and the only song with singing), Halls of Summer
5. The Gaslight Anthem  – Handwritten
The Gaslight Anthem has transitioned from Punk Rock to Rock'n'Roll and it hasn't been more suitable for a band to change genres like these guys. Brian Fallon had a calling in life and it was to write songs that mean something. It's a simple concept and it's simple to grasp. Simplest of all, Gaslight Anthem is a band anyone can listen to.
Favorite tunes: 45, Howl
4. Title Fight – Floral Green
This band is changing the punk rock and hardcore scene. That's all there is to it. Read my first review for the Concordian about seeing them play their first show of the year in Fargo.
Favorite Songs: Lefty, Numb but I Still Feel It, Like a Ritual
3. Deftones – Koi No Yokan
I'm certain there is a consensus that this band is the best modern metal band. There's studies somewhere out there on this. On a serious note, Deftones used to be a band that all the nu-metal junkies loved. Ask any fan of early 2000's Linkin Park, Godsmack, Mudvayne and Slipknot about Deftones and they would say, "Ya dude, that band is pretty dope. Hail satan." Well, Deftones have changed up their sound with a more straightforward, melodic heaviness and I think the demographic has changed. Fans of punk, hard rock, all types of crazy metal, and fans of old Deftones still appreciate the stuff that these guys are putting out. They have been UNTOUCHABLE lately and they're 7 albums in. NOBODY DOES THIS.
Favorite Songs: Leathers, Swerve City
2. Rocky Votolato – Television of Saints
Rocky Votolato can cross over many multi-genre listeners yet he keeps it simple. Most of his songs have a manageable instrument layout: acoustic guitar, electric guitar, harmonica, low-key percussions (if used at all) and the strongest instrument of them all, his voice. Rocky Votolato is a product of Seattle. He used to be in a band called Waxwing that drew a lot of influences from the rise of a punk and indie scene in the area. His following strongly represents these demographics although his music is mainly classified as folk. If you follow his career from the beginning, you'll dig through his deep history of depression, coping, marriage, and children. "Makers" is his darkest album to date and often pulls a lot of mental issues he has gone through in his past. It's often a scary album. Once you dig through his history, possibly meet him, read up on him or watch interviews, you'll appreciate the hopeful tone of Television of Saints. Rocky is gifted with the ability to write songs like poetry and soaked this album with light, hope, and opportunity but still recollects his haunting past to get his idea through in each song.
Favorite Songs: Little Spring, Writing Fiction, Television of Saints
1. Bahamas – Barchords
I thought I was going to be the only one in on this album until Canadian's blew this album up for "best of 2012" material, especially in the singer-songwriter genre. So here am I, still the only American in on this album except for those that ventured out to the Winnipeg Folk Festival and watched this guy steal every performance he took. Afie Jurvanen is Bahamas. Afie Jurvanen needs to be bigger than Nickleback. Every aspect of his musicianship is golden. He has a stage presence as a true entertainer; he can sing, make you laugh, hone his technique on stage, create stellar solos, has a wise collection of covers and has the ability to move you equally on stage and in recordings. His instrumental work has been crafted with years of work with Feist and other Canadian musicians but with Barchords he was able to show his ability in lyrical content. This album is very real to anyone who's been through heartache. If you don't feel like being emo, there are songs about friendship and family and your everyday situations. He can construct his lyrics to simply define these things so anyone can easily relate to them. It's a relief since there are too many songs that are soaked in metaphor these days. I'm a huge fan of simplicity. Ultimately, Barchords is a beautifully sad, realistic and catchy album.
*He performed Tom Petty's "You Don't Know How it Feels" and covered the Band four times total for a Levon Helm tribute at Winnipeg Folk Festival. You can find Bruce Springsteen covers and a ton of others on the thing they call Youtube.
Favorite Songs: Lost in the Light, Okay Alright I'm Alive, I Got You Babe, Your Sweet Touch
Here are the albums that missed the list without the super long reasons why it meant something to me.
Japandroids – Celebration Rock, The Menzingers – On the Impossible Past, Of Monsters and Men – My Head is an Animal, Bad Books – II, Dr. Dog – Be the Void, POS – We Don't Even Live Here